Amish Doll
$27.00 large doll (each)
$20.00 small doll (each)
These carefully crafted faceless dolls feature jointed arms and legs and soft stuffed body. The girl's clothing is beautifully sewn with pleated dress skirts, pintucked aprons, intricate detailed bonnets, and tiny tucks in the sleeves and skirts. Our boy doll has on a shirt, suspenders, broadfall pants, and a straw hat. Excellent quality. Made in New York.
*Arm and leg joints use BUTTONS - may not be suitable toy for very young children*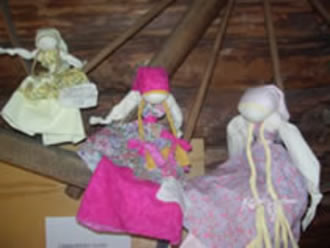 Appalachian Doll
$18.00 large doll (each)
$14.00 medium doll (each)
$10.00 small doll (each)
Old fashioned faceless dolls with solid or calico dresses and headscarves and coordinating calico aprons. In a variety of hair colors arranged in long braids. They make a special friend for little girls and are very child friendly with no buttons.
They are also perfect for traditional country decorating. Made in Tennessee. SPECIFY FAIR OR BROWN SKIN.
18" Amish Doll Outfits
$22.00
Dress your favorite 18" doll in an adorable Amish outfit. The outfit includes a solid color dress, an apron in either black or white, and a bonnet in black or white.
18" Doll Clothes
Blouse $8.00 - Bonnet $5.00
Dress $15.00 - Jumper $13.00
Skirt $10.00
Now the 18" dolls in your household can be dressed in modest feminine clothing too! A nice variety of dresses, jumpers, skirts, blouses and bonnets. Very nice quality.